Town Železný Brod
THE TOWN OF GLASS AND FOLK ARCHITECTURE
The town of Železný Brod is situated in the picturesque valley of the Jizera River on the borders of Bohemian Paradise (Český ráj), the Jizerské hory and Krkonoše Mountains. Originally, it was a settlement named Brod (sometimes also called Brodek; both names mean ford in English), founded in the 11th or 12th century in a location where traders travelling along the trade route from Prague to Germany and Poland used to cross the Jizera River. The first written mention of the town's existence is later, from the mid-14th century. In 1468, the town was damaged by Lusatian troops, but as early as 1501, King Vladislaus II Jagiello restored the town's rights, granted the town a coat of arms and most likely since then, the town has been referred to as Železný Brod.
In the middle Ages and early modern times, iron ore used to be extracted and processed in the town and its surroundings. In 1660, the town was granted execution rights and in 1695 the right to hold an annual fair. Crafts flourished and new guilds were founded. This turned the town into the economic centre of the entire sub-mountain area. In the second half of the 19th century, Baron Liebieg built a large textile plant in Železný Brod which brought about further development.
Walled buildings started to be constructed in a town where wooden structures had prevailed, social life flourished and many associations were founded, some of which still exist.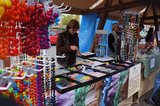 In the late 19th and early 20th centuries, the glassmaking industry boomed, supported by the opening of the first Czech professional glassmaking school in 1920. Železný Brod thus became a town of glass and custom jewellery.
TODAY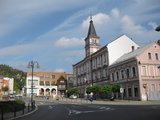 Železný Brod, including its 11 municipal districts, has a population of 6,500. The following villages are part of the town: Bzí, Veselí, Těpeře, Chlístov, Splzov, Pelechov, Hrubá Horka, Malá Horka, Jirkov, Střevelná and Horská Kamenice.
There are many historic and folk architecture sites you can visit in the town and its surroundings. There is a rural conservation zone in the neighbourhood called Trávníky with a marked trail. Other cultural opportunities include the glassmaking and ethnographic expositions of the Municipal Museum, the Municipal Gallery and the Kino Cultural House.
Regular cultural events are held annually in the town. The best-known of them include the Železný Brod Fair (June) and the "Glass Town" festivities (Skleněné městečko) (September).
The partner towns of Železný Brod are Chvalíkovice (www.chvalikovice.cz) in Silesia and Olszyna in Poland (http://www.olszyna.pl)